The Rat Czar is coming for NYC's trash
Using rigid, sealed garbage containers will make our streets cleaner, make trash collection more efficient, and end the all-night buffet we currently serve to New York's rodents.
Every night at around 8pm, hundreds of thousands of plastic bags of trash are placed on the sidewalks of New York City's streets. That garbage sits on the curb all night decorating the neighborhood and nourishing rodents until some time the next morning when workers for the Department of Sanitation drive past to fling each bag into a garbage truck. 
Plastic bags, curbs, and strong muscles: that's how the City of New York manages solid waste. The bags often leak, staining the ground. Hot summer nights exacerbate the bad smells. Narrow sidewalks become even narrower. Rats and mice get well fed.
It's the rats, above all, that seem to have drawn the attention of the mayor and the media to New York's garbage issues. Last week Mayor Adams anointed New York's first-ever "Rat Czar", Kathleen Corradi, who has been tasked with coordinating across government agencies to reduce the city's rat population.
Corradi's appointment follows the city's recent rule change that delays the earliest time that residents are allowed to set their trash out on the curb from 4pm to 8pm. The administration pitched this as an anti-rodent measure, but given it's not uncommon for trash collection to only occur at 10am the next day, this change is really just tinkering around the edges of the problem. My building's trash still typically sits on the curb for 12 to 14 hours, which is plenty of time for rats to chew through a bag and eat plenty.
Beyond the rat problem, New York's approach to waste management is unusually labor intensive and dangerous compared to other cities' approaches. Every single trash bag is individually lifted off the curb and thrown by a sanitation worker into a garbage truck, often over and around parked cars. A survey of Department of Sanitation (DSNY) workers found that 60% lifted more than 10 tons of waste per day and 50% had experienced work-related back pain lasting for longer than a week in the past year. Individually handling each bag also increases the risk of workers being harmed by the contents of trash bags – which might contain sharp items, biohazards, or dangerous chemicals that leak out.
This isn't a very good way of managing trash.
The magic of containerized waste management
There are, fortunately, better methods! In essence the solution boils down to putting trash inside rigid containers that seal trash in, keep pests out, and which can be mechanically lifted and tipped into a garbage truck. Different cities have different implementation details, but the core principles are the same.
Some cities give each household or building standardized hard plastic rubbish bins with a flapping lid and wheels on one side. In Paris, they look like this:
Paris collects trash every day and recycling three days per week. Residents or building managers (gardiens) roll their bins to the curbside at most one hour before their area's collection time, and bins must be retrieved off the street within 15 minutes of the garbage truck collecting the waste. Sanitation workers roll the bins from the curb to the back of the truck, which lifts and tips the waste mechanically, like this:
Other cities, such as Barcelona and Amsterdam, use communal waste collection containers spread around the city. In Barcelona, for instance, every resident lives within 100 meters of large bins that are color-coded according to the type of waste they accept: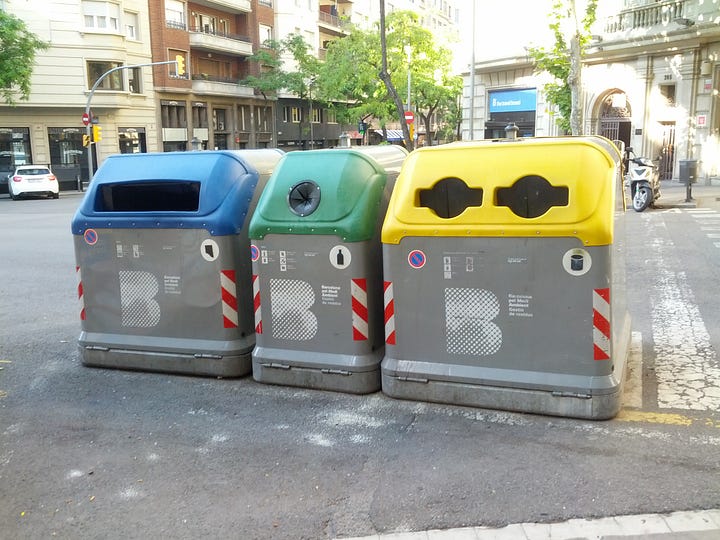 Residents walk from their homes to place their waste in these bins. The containers have sensors that detect how full they are, which the city uses to automatically optimize the collection routes of rubbish and recycling trucks. These, of course, extract the waste mechanically, like this: 
These containerized waste approaches are a streamlined method of isolating waste from pests, keeping waste smells contained, preventing leaks, speeding up collection times, and reducing human exertion.
Containerizing New York's waste
New York's government has been taking slow steps towards using containers to manage the city's waste.
The Department of Sanitation allows households and businesses to place their waste on the curb in a container with a secure lid. Residences that use containers are allowed to place their waste on the curb from 6pm – two hours earlier than properties that use plastic bags. Unfortunately the city doesn't mandate a standard container type and only a small minority of addresses actually use containers, so the city hasn't been able to win any efficiency or safety gains from mechanizing the collection.
Since December 2022 the city has been piloting a form of containerization along one block in Hell's Kitchen (45th Street between 9th and 10th Avenues). The city has placed six locked containers in converted car parking spaces along the street. Each building's superintendent has the ability to unlock the container their building is assigned to and place their garbage bags inside. DSNY workers come along on their regular schedule, unlock each container, and fling the bags one-by-one into their garbage truck.
This pilot is a pretty underwhelming attempt at containerization. While residents have been pleased by the way the containers separate rodents from pests and keep trash off the sidewalk, DSNY workers have reported this block is slower to collect from than other blocks. Garbage collectors have to fuss around with the containers' locks, and ultimately the trash pickup method is still strong humans lifting and throwing plastic bags of waste into a truck. The pilot is set to run through the end of 2023, and consultants will then report on their recommendations to the city.
My hope is that New York will eventually adopt a system of waste containerization that uses standardized bins (either communal or per-building) that can be mechanically tipped into trucks. Supporting this may require new or upgraded garbage trucks that have the right equipment for mechanically tipping bins into the truck. Also, on streets with narrow sidewalks adopting containerization will probably require taking some space that is currently used for car storage and repurposing it to host these containers – like what they did in the 45th Street pilot.
I'm hesitant to be too optimistic, but at the event to announce the Rat Czar's appointment Mayor Adams made some encouraging remarks about containerization, saying that "I don't think you are going to find an administration that is more serious about […] placing our garbage in containers". He also mentioned getting "the right trucks to pick up containers", suggesting that he is aware of the benefits (and costs) of mechanization.
We now need the Rat Czar, City Council and the Department of Sanitation to take action to make containerization a reality. I'm particularly watching Manhattan's west side Council Member Erik Bottcher, whose campaign heavily featured trash and sanitation issues, and whose district contains the 45th Street pilot. 
Tinkering around the edges isn't going to be enough to clean up our streets and get rid of the rats. We need to containerize New York's trash.