Why Lisbon's streets smell better than New York's
Our city council is making progress on making our streets safer, and we have a lot to learn from Lisbon's approach to trash management
I'm on vacation in Portugal this week, so today's post is a bit light. Normal service will resume next week.
The historic center of Lisbon is dense and hilly. The streets are paved with cobblestones and the sidewalks are narrow. It's beautiful.
I don't want you to think I'm obsessed with how cities manage their waste, but after my post last week about New York's outdated trash system, I was particularly interested to observe Lisbon's approach during my visit here. 
Lisbon's method of containerization seems pretty good, but it's not perfect.
Lisbon stores its trash in a mix of large communal waste containers and smaller wheelie bins that appear to each serve an individual building or business. The communal bins are a mix of underground containers and large color-coded plastic wheelie bins.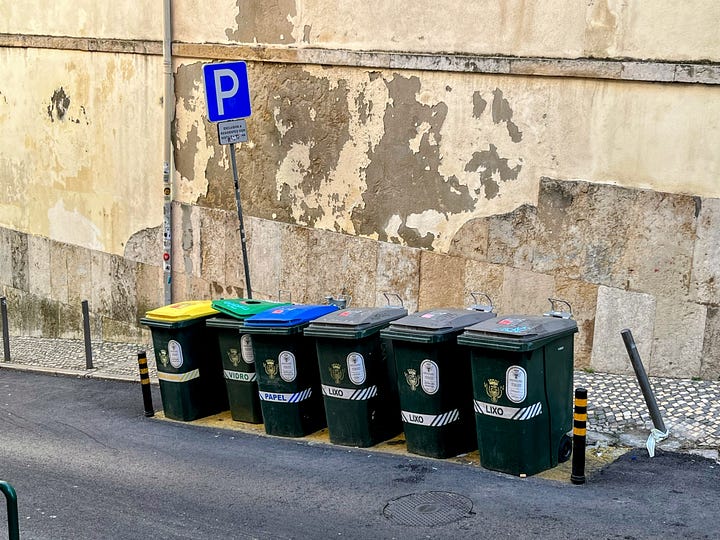 For the most part, this system seems to work pretty well. I saw very few garbage bags randomly sitting on Lisbon's curbs. I saw no rats. Several of the communal underground containers either had loose litter or trash bags placed near them, and they smelled a bit unpleasant. Other communal underground containers were tidy and odorless. Perhaps these containers users were just more diligent, or maybe the sanitation department had more recently cleaned these ones. It's hard to tell.
Compared to New York's low-tech method of placing plastic trash bags on the curb, Lisbon's system seems to result in cleaner streets and fewer pests. Mayor Adams has said that teams from the Department of Sanitation are studying the methods that other cities use. New York could learn a lot from Lisbon.
Back in New York, this week the New York City Housing Authority announced plans to trial containerization at a public housing site in Coney Island. Progress!
---
Separately, on Monday the New York city council transportation committee held a hearing on Monday to discuss nine bills related to traffic safety and mobility. This hearing included several bills I think would help make NYC better:
Intro 501: to allow the Department of Transportation to issue fines to drivers who block crosswalks, bus lanes, bike lanes, and sidewalks based on photos submitted by residents. This is similar to what already exists for reporting issues with taxis and for-hire vehicles, which I've written about before. I think this bill is an important step towards holding drivers accountable for their actions. This also serves as a backstop to the police, which is typically lax on traffic enforcement (or police are themselves the culprits of blocking the sidewalk with their vehicles). This bill has been frustratingly watered-down during the lawmaking process (more details), but it's still better than nothing.

Intro 927: related to establishing centers for food delivery workers to recharge their electric bike batteries. I think bikes are a great way to do deliveries of all types, and setting up infrastructure to support e-bikes is important. This bill just creates a taskforce to study the topic, but it's a start. 

Intro 712: requiring the Department of Transportation to annually report on the number of vehicles with licence plates that are missing, fake, illegible, or obscured. This is often done by drivers who seek to illegally evade tolls, speed cameras, red light cameras, and other law enforcement efforts. Monitoring the frequency of these abuses is important to help work out how much effort the city should put into systematic approaches to tracking down these "ghost" vehicles. This will become even more important once Manhattan's congestion pricing goes into effect, as that system is entirely reliant on being able to charge vehicles based on their licence plates.
We're now waiting on the transportation committee to formally vote on these bills and decide whether to send them to the full city council for ultimate approval. I'll keep you updated on these bills' progress. 
---
Thanks for reading Sidewalk Chorus! Subscribe for free to receive new posts by email each week and support our work towards a happier, healthier, and more prosperous New York